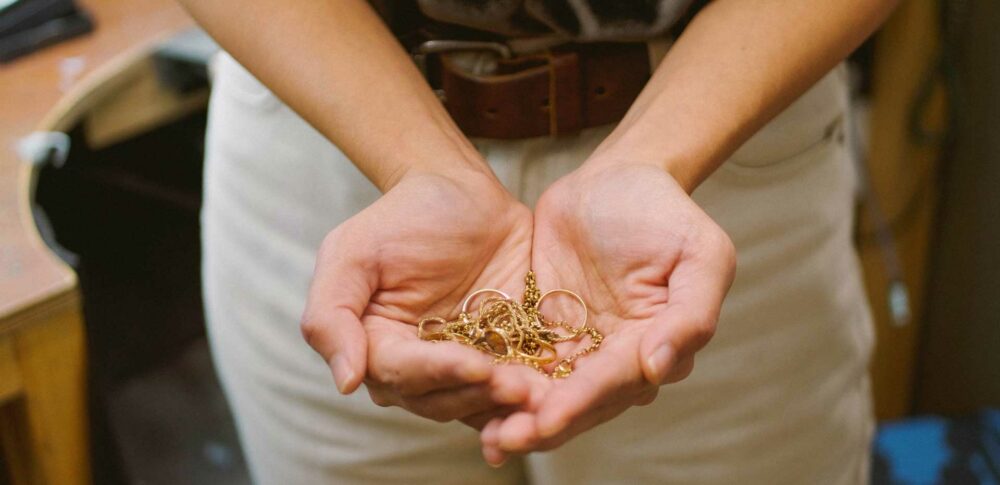 Our dedicated remodelling service is best suited to special family jewellery which we can remodel into a newly crafted piece that is tailored to your taste and style. Drawing from a wealth of experience, our talented team of in-house jewellers can transform these sentimental pieces into exciting new luxury pieces that can be worn on a daily basis.
From engagement rings and wedding bands to everyday jewellery, we are happy to advise on the best remodelling options for you. Gold can be melted down and reshaped, and existing stones can be re-set into a new piece of contemporary jewellery. If you'd like to apply new elements to your jewellery, we can also add extra gold and source new stones.
How does the process work?
We've broken down the remodelling process into five simple steps to give you an idea of what to expect:
Bring in your jewellery and we can assess and advise on what's possible to re-use. We'd advise bringing everything with you – single studs, rings, chains etc. – even if you don't think it's usable.

We will then discuss the type of jewellery you would like made and provide an initial quote based on your request – prices typically start from £300.

Next, we will often draw up sketches or CAD designs. Once you are happy with the design, we require a 50% deposit to start the work.

The remodelling process takes around 6-10 weeks, but we can always work to a deadline.

When the process is complete, any leftover gold will either be returned to you or can be credited against the cost of your re-modelling.
Start your remodelling journey with us today by popping into our Clifton Village shop or booking an appointment below.